Shipping packages to your buyers is one of the important processes in online selling, because it involves much more than simply sending a package.

Picking and shipping correct quantities and items are essential to the success of your online business. Get it right, you can build a loyal customer base and get more sales. Get it wrong, you will lose customers and reduce profits. In this article, I will let you know 8 common shipping errors and how to avoid them.
5 Common Shipping Errors
1. Send wrong items
It happens in almost every business, and it always occurs at the picking process. You may pick similar items or pick items from the wrong shelf in your warehouse.
For example, the customer purchased item A, but you pick item B from the warehouse, pack item B to package and send it to your buyer. To avoid this shipping error, I suggest you print a pick list so that you can pick the correct item from warehouse.

Or you can combine pick list info and shipping label on one sheet, BigSeller can help you to achieve this. You can use BigSeller to customize shipping labels and add product info for Shopee and Lazada orders. In this way, you can check if you pick the correct items.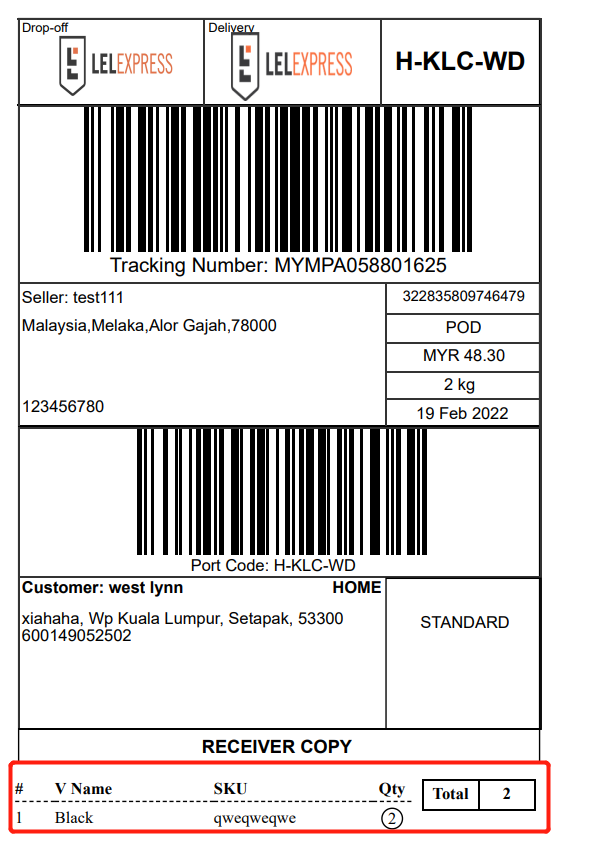 2. Send incorrect quantity of items
Sending incorrect quantity of items always happens for online sellers. For example, your customer purchased 2 quantity products, but you only sent one to your customer. Your customer will apply for a refund or return when this shipping mistake happens.

To avoid this shipping error, you need to check it carefully before you pack items. Also, you can use BigSeller to filter the package types: Single Item 1 qty, Single item multiple qty, and multiple items. With this filter, you can print air waybills and pack items according to the package types, and you can eliminate sending incorrect quantities of items to your buyers.
3. Packages don't arrive on time
When you have sales, you need to ship packages to your customer soon and make sure the package can be arrived on time. Your customers may be unpleasant if they don't receive their products on time, and they may leave a low rating and negative reviews to your shop. They will not purchase from your shop again and you will lose this customer.

To avoid it, you need to pack and send packages to shipping providers soon when you get orders from your customers. If you have no stock in your warehouse, you can edit the stock to 0 immediately. Alao, when you have no more stock and the stock is on the way, you can set your products as Pre-order, in this way, you have enough time to ship packages. When you are off work for a long time and can't process orders, for the Shopee store, you can turn on vacation mode.
4. Improper packing
Improperly packed items may be damaged during shipping, you can imagine how unsatisfied your customers are when they receive a damaged item. Most of the time faulty packing is the reason for the product package. Many shipping providers have started denying damage claims related to improper packing. Therefore, it's worth reassessing your packaging protocols to ensure everything is safe and secure.

You need to use different packing for different types of products. For example, glass or fragile products, you need to use bubble wrap or protective cushioning to prevent damage. To eliminate unnecessary costs and limit liability, taking time to consult with a packaging professional is also a good idea.
5. Overpaying for shipping
When you want to increase sales, you may provide free shipping to your buyers. It is a good way to improve conversion rates and prevent your customers from abandoning the cart. However, you need to make sure that you can cover the shipping fee for each order to prevent loss of revenue.

Also, you need to enter the correct package weight and dimensions to calculate the correct shipping fee for shipping logistics. Otherwise you may be overcharged the shipping fee and it is a complex process to appeal the shipping fee.
Conclusion
This article covers 5 common shipping errors/mistakes and methods to avoid them. Shipping packages is one of the most important parts in the online selling business and it is the key to success. A single mistake can be the reason for an online store's failure. Therefore, by avoiding the above mentioned shipping errors, you can satisfy your customers and boost sales.