TikTok is a social media platform, it posted a new feature called TikTok Shop in Feb 2022 for Malaysia. It allows you to open a TikTok shop and sell products to TikTok users.

Not same as other selling platforms, you need to promote your products yourself, or you can't get traffic and sales. To promote your products and boost sales for your TikTok shop, joining the TikTok affiliate program is a good idea. I will let you know how to set up TikTok shop affiliate plans in this article.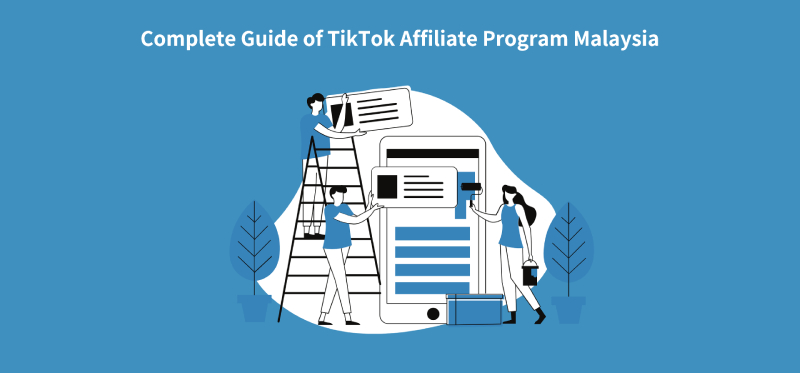 What is TikTok Shop affiliate program?
With the TikTok shop affiliate program, the seller can list products to TikTok shop and create affiliate plans, then TikTok creators can promote your products.

For TikTok sellers, you can link up TikTok creators and they will promote your products, then you pay commission on successful sales.

For TikTok creators, they will select products that join affiliate program. They can promote these products by posting short videos or livestream.
Importance to join TikTok affiliate program
TikTok users can visit and purchase your products with these ways: short videos, livestream, and showcase. If you don't join the TikTok seller affiliate, the TikTok creators can't promote your products with their short videos and livestream, and you can't get traffic and sales.

Unlike Shopee and Lazada, TikTok has no organic traffic unless you have a lot of followers yourself. TikTok creators usually have many followers and have experience promoting and selling products. You can collaborate with creators and sell more products. Joining TikTok seller affiliate can help your products get more traffic, improve product conversion rate and boost sales.
How can TikTok Shop sellers join affiliate program?
There are 3 types of TikTok shop affiliates: Shop plan, Open plan, and Targeted plan.

1. Create shop plan
Shop plan allows TikTok creators to promote all of your products in your TikTok shop. You can go to TikTok Shop Affiliate > Plan > Shop Plan, and create a shop plan. What you need to do is set a commission rate, and it is for all products in your shop.

Once you set the commission rate, all products of your store will be available for TikTok creators to promote and sell, then the creators can get the commission rate for the successful sales. It can help you increase the traffic to your products and get more sales.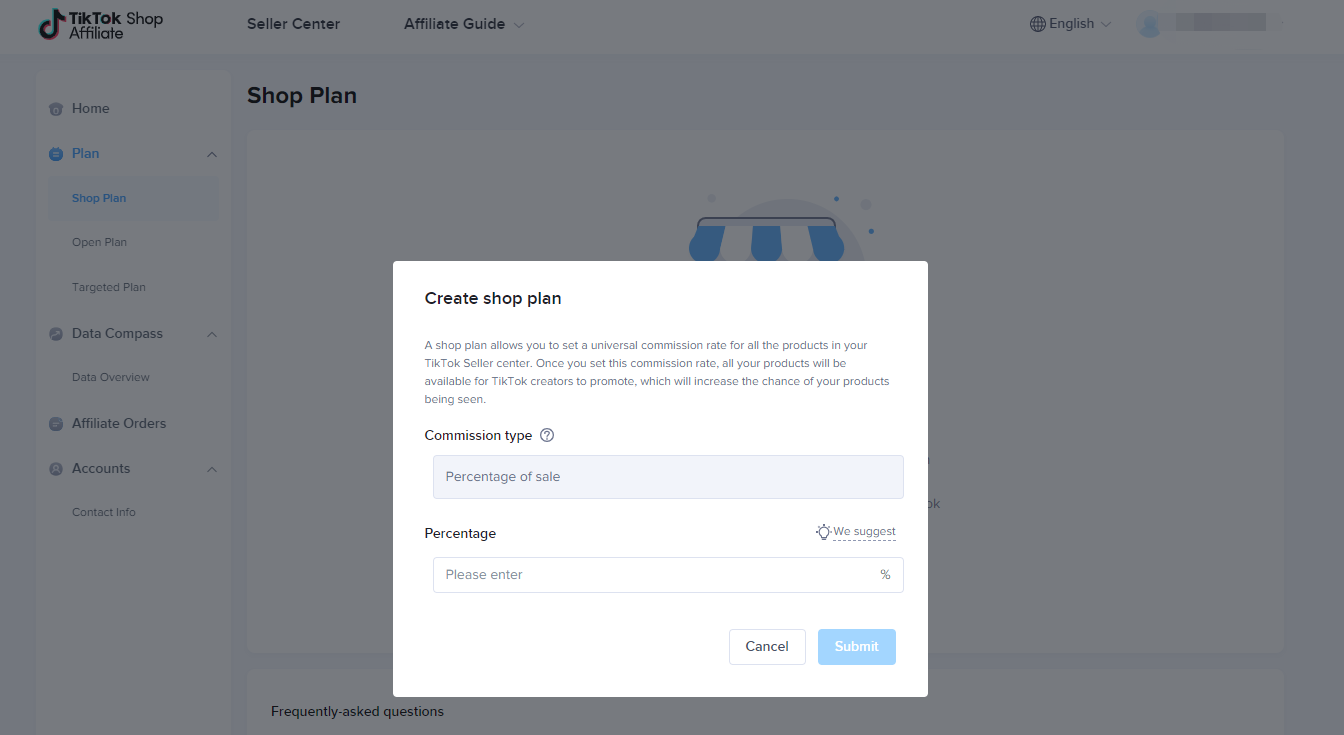 2. Create open plan
With an open plan, you can select products to join the affiliate program, creators can apply for selling your products if they are interested in your products.

You can go to create an open plan, select one or more products and set commission for your products. Besides, you can add the pitch to describe the key features and benefits of your products, then the TikTok creators can know how to promote your products.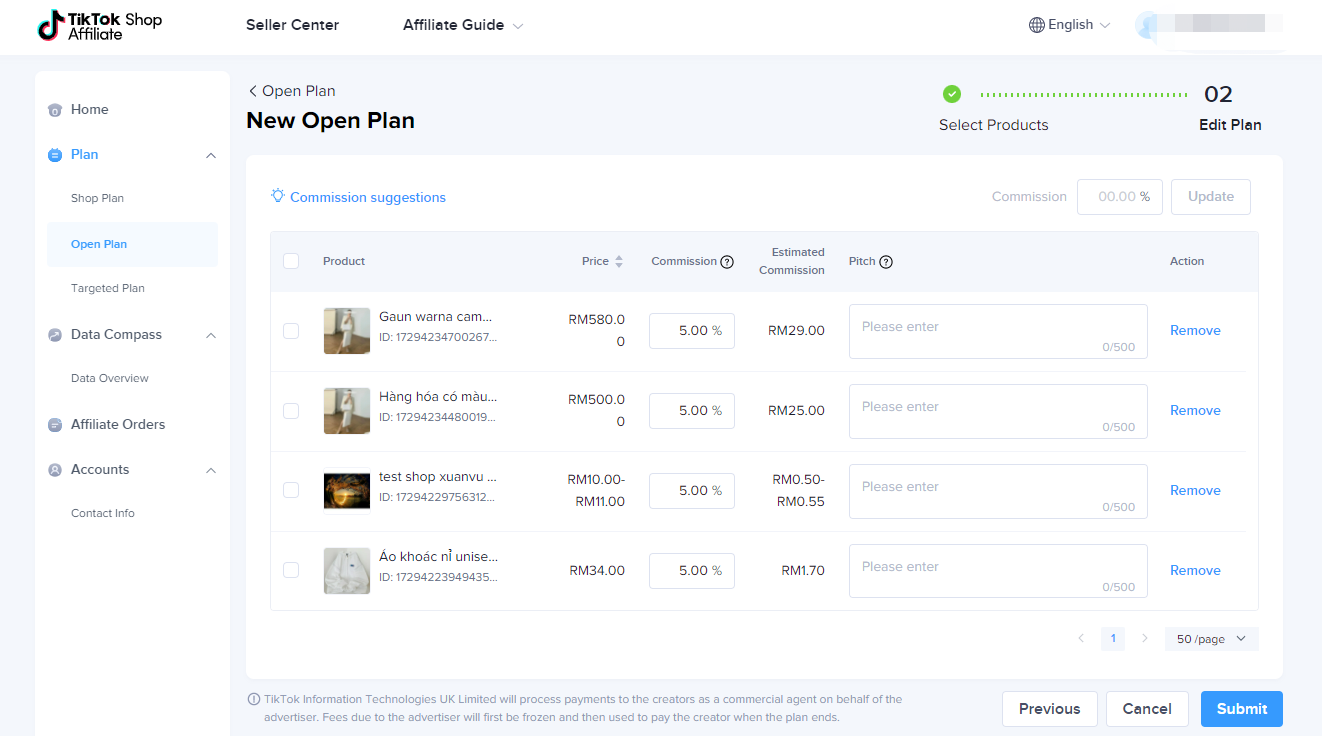 3. Create targeted plan
With the targeted plan, you can invite the targeted creators to promote products for you, and creators can start promotion after they accept your invitation. You can create a targeted plan, select one or more products and set commission, then you can select up to 30 TikTok creators. It is better to contact your interested creators first.

Under Manage Creators, you can manage creators and check their products adding status. You can also remove the creators from your plan.





Check Affiliate orders
Under Affiliate Orders, you can check all orders generated via affiliate and order info, for example, order ID, order status, time created, time order delivered, and time commission paid. If you manage multiple stores from multiple playforms, I suggest you use BigSeller to process your orders. It allows you to copy listings and process orders easily in one system.
Conclusion
TikTok shop is a shopping platform with huge potential in Malaysia that may surpass Shopee and Lazada in the future. The most effective way to promote TikTok products is by joining the TikTok affiliate program. I hope this article can help you get more traffic and boost sales via TikTok affiliate marketing.