To get more sales and to be a successful seller on Lazada, you need to advertise your products. In this article, we will discuss what sponsored discovery is and how to drive traffic and boost sales to your store with this sponsored solution.
Introduction to Sponsored Discovery on Lazada?
Lazada merged sponsored search and sponsored products into sponsored discovery. With this sponsored solution, it can help reach the right shoppers at the right time.
Lazada sponsored discovery is an efficient way to help you gain wide visibility among Lazada shoppers. It allows buyers to discover your products easily across Lazada search result pages and when they are looking for other similar products.recommendations section on product details page.
Benefits of Sponsored Discovery
Gain more exposure. The sponsored discovery can help your products shown on the top of Lazada search result page, you can get more exposure of your products to the right buyers.
Boost sales. With the sponsored discovery, more buyers can discover your products. You can get more sales in a large part.
Smart campaign management. It can help you select the products and keywords automatically and optimize towards real time trends on Lazada.
Data Transparency. You can check the detailed performance report for your promoted products in real-time. Also, you can see your account balance and a daily budget of your Sponsored Search.
Pay for results. Optimize towards your business objectives on traffic and sales, you can only pay when the products are clicked by the shoppers.
How to Set Up Sponsored Discovery?

Go to Lazada seller center and navigate to Sponsored Solutions, click New Campaign. You need to accept the Terms and Conditions if you visit sponsored search for the first time.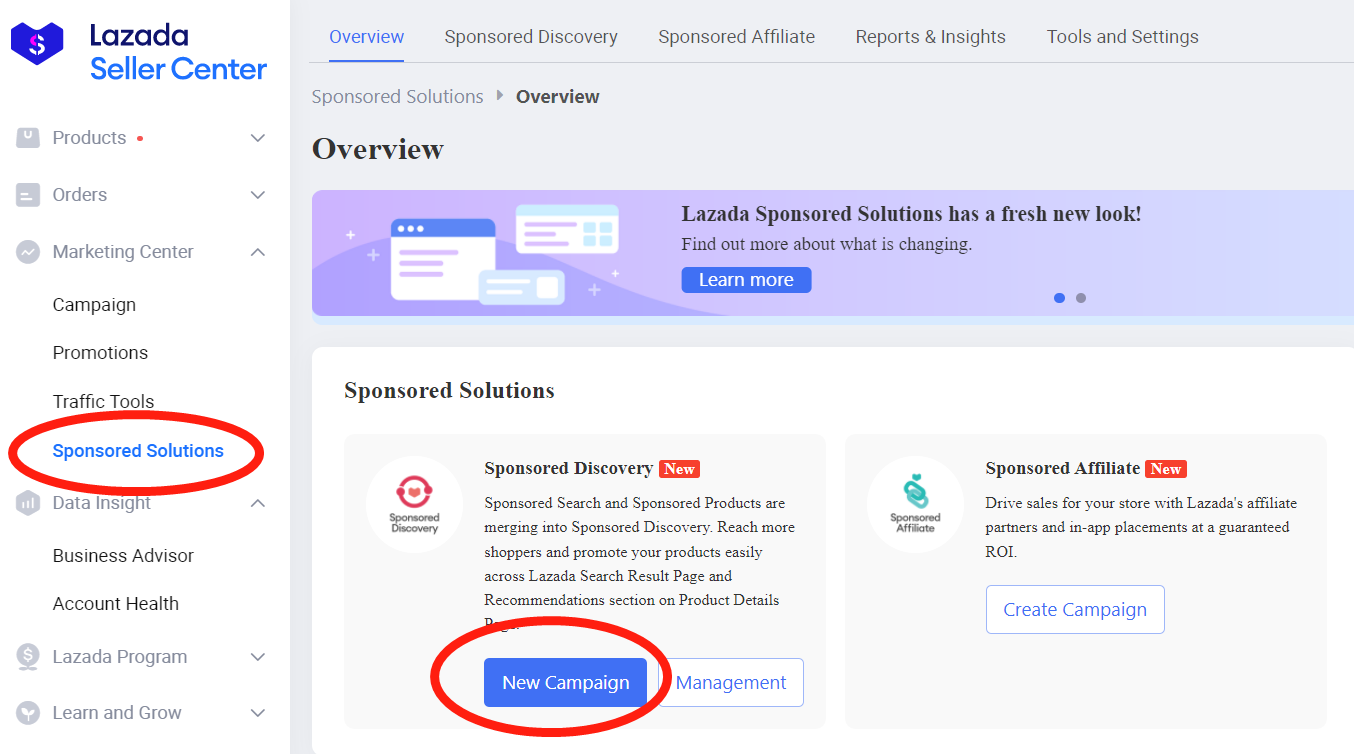 Next I will show you the steps to create a campaign.
1. Enter your campaign name.

2. Select traffic or sales objective. Traffic can help you increase the number of clicks to your products, while sales help you increase your store's sales. Also, you can create two campaigns with different campaign objectives if you have enough budgets.

3. Choose Automated or Standard campaign type. Automated campaign helps you get the most clicks and sales for your given budget, while with standard campaign, you have more control over which products or keywords you bid on, also you can adjust the bid price.

4. Input the daily budget, you can set a maximum amount you can pay for this campaign each day.

5. Set the start date and end date (optional) to determine how long you want to run this campaign.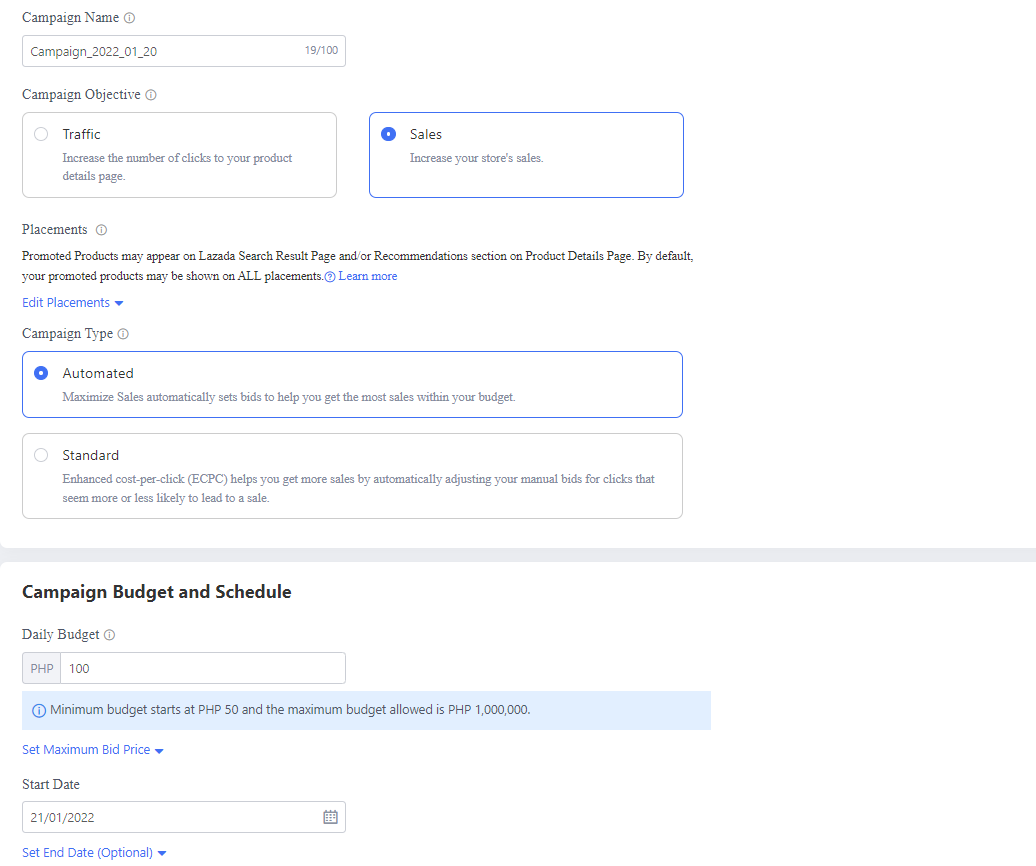 6. Select products you want to join this campaign, or you can select Automated to let Lazada pick products from your store automatically. Please note that automated product selection is only available for one campaign.

7. Enable automatic creatives improvements to let Lazada automatically optimize towards the best performing creative from your existing product image set. If you select Standard, you can select keywords manually for your selected products. You need to consider 3 factors to consider when selecting the keywords: High keyword relevancy, high search volume, and bid price.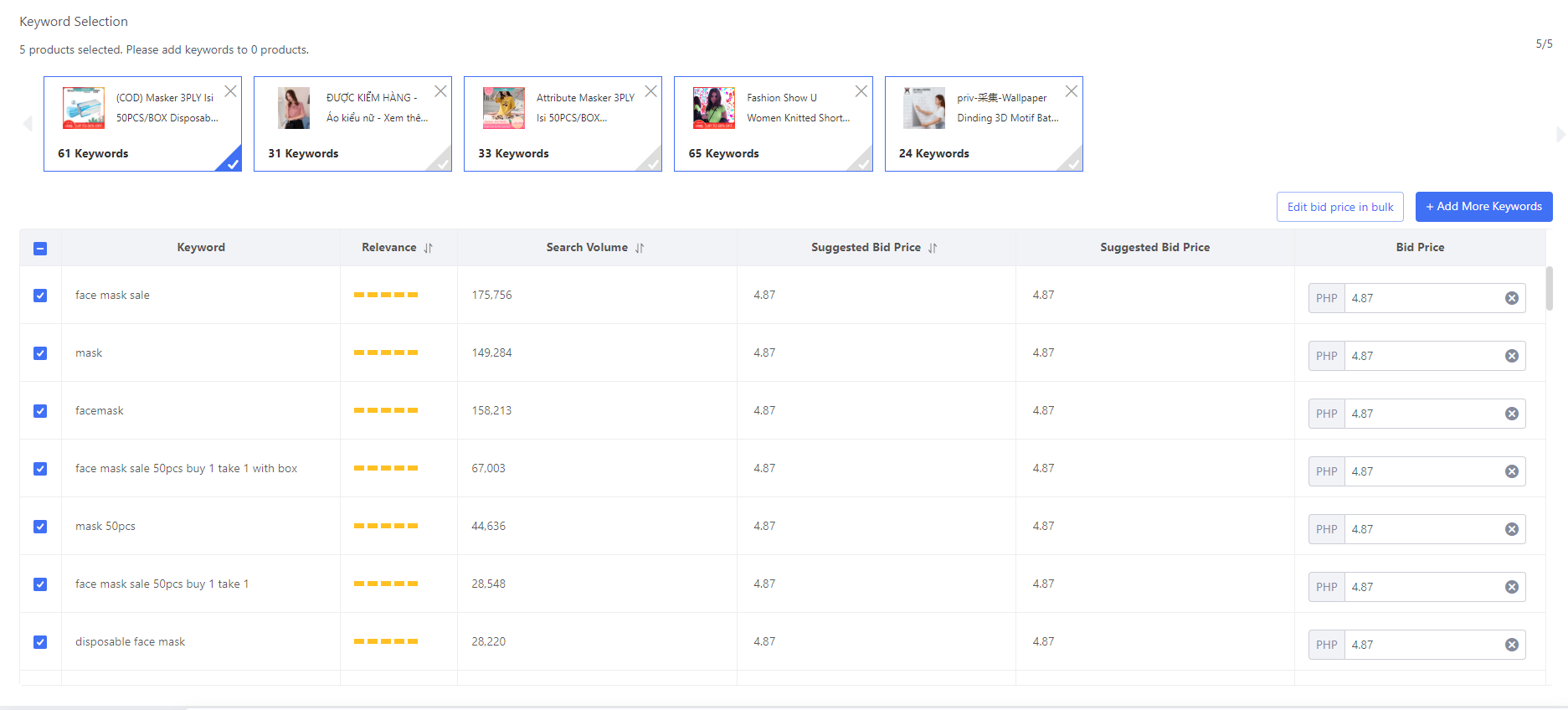 8. Check your campaign settings, click submit once confirmed. After creating a sponsored discovery campaign, you can check the performance review. Here you can top up your account and ensure there is sufficient credit for your campaigns.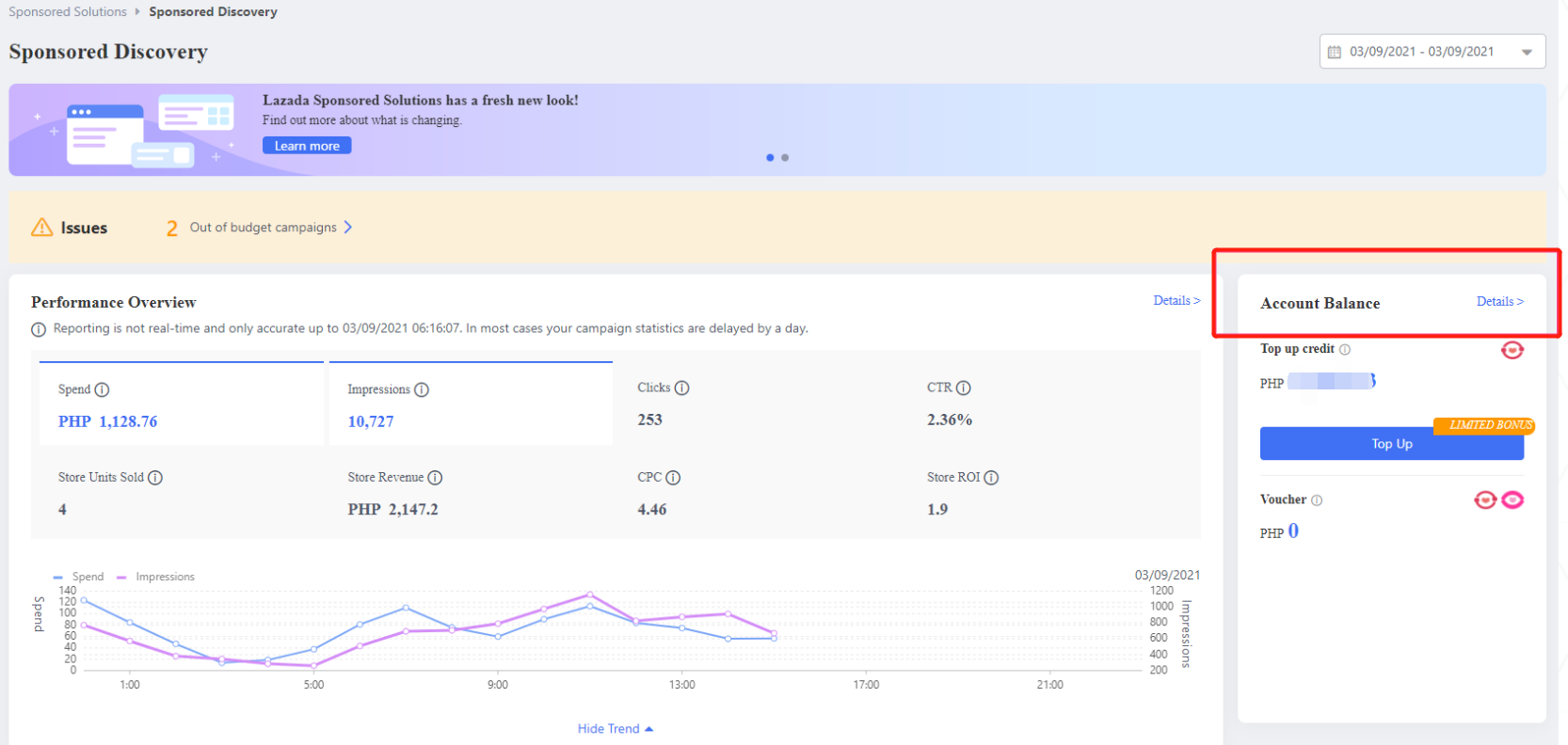 Conclusion
To boost exposure and get more sales, joining Lazada Sponsored Discovery campaign is necessary. Through the paid sponsored search and other promotions, your sales will be increased rapidly.